Living in a resort town like Stowe, I often get asked by visitors while riding a chairlift or playing golf, "Where's a good place to eat around here?" I always give different answer, not because I want to make sure my Friday night bar seat at Harrison's is always open, but truly because the choices are great and plentiful. (I am only kind of kidding about my bar seat at Harrisons).
Well, here are my picks for the best breakfast, lunch and dinner in Stowe. The hard part about this article is that I love so many of the restaurants that it's difficult to choose just a few, but here goes:
Breakfast: I have two choices, and both are good options, but for a sit-down breakfast, the clear winner is Butler's Pantry on Main Street. Butler's Pantry has
a very traditional, expertly done breakfast menu with Vermont favorites and local products! It doesn't hurt that the menu includes a full bar for a morning cocktail. The building itself is very cool, featuring an exterior designed to look like a true French bistro with a white painted brick façade and wide plank pine flooring inside. So the question becomes what do I eat. Answer? French Toast with the house made maple syrup and local bacon. Yes, I know, not exciting. I know that you can make French toast at home… but not like this! The challah bread, local bacon, and real Vermont Maple syrup make theirs hard to replicate.
If there's a wait at Butlers Pantry, head directly across School Street for a coffee or latte at Black Cap Coffee while you wait. If you decide not to wait for a seat at Butlers Pantry, you can't beat the sweet breakfast treats at Black Cap Coffee. In the spring and summer, Butler's Pantry has plenty of outdoor seating and the side porch is a great place to people-watch while you enjoy your breakfast in Stowe.
Lunch: My second choice for breakfast is also my pick for Best Lunch Spot: Café on Main. My friend Neil owns this great breakfast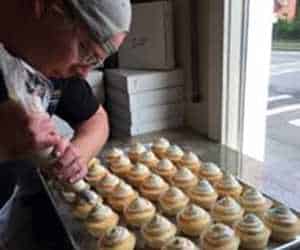 and lunch spot, which is a great place to grab a sandwich and go, or enjoy the patio in the Summer and Fall. Whether I am running to a meeting, heading into the woods for a mountain bike ride, or skiing on the mountain, I'll stop by to grab a sandwich at Café on Main. My sandwich of choice is called the Rachel:a Ruben with turkey piled high on Vermont rye bread, coleslaw and thousand island dressing. On a cold, blustery day, grab one of the homemade soups, and if clam chowder's on the menu, that would be my suggestion. Don't pass on a sweet treat for dessert to finish off your lunch. Café on Main has a small indoor seating area, and their outdoor covered patio is another great place to people watch or meet up with friends. Great sandwiches, great service, and a great price makes Café on Main my pick for a great lunch.
Dinner: Most people who know us in town know that my wife and I are regulars at the bar at Harrisons, and have been since we moved to town 10 years ago. There's no place like Harrisons in the area; we are always there to celebrate family birthdays, holidays, and everything in between.
The owners Andrew
and Kathy make you feel like family and the staff are as professional as you'd find in high-end restaurants in NYC or Vegas. As a kid from Boston who grew up watching Cheers, I also love that I can sit at the bar with my loved ones. The only real problem here is choosing what to eat… which is sometimes the most difficult decision of my week. I usually lean towards the steak or their mainstay, the Harrison's Burger. Without question, the Harrison Burger is one of the best burgers in Central Vermont and potentially in all of Vermont. I have never found a burger that doesn't need condiments and I never use condiments on the Harrisons burger.
Here's how the meal goes: we usually start with an IPA for me - whatever is on tap- and a glass of rosé for my wife. We typically will split a Caesar salad to start, I'll go with one of the steak selections, and Kelly will get whatever she's in the mood for (last time we were at Harrisons she had the Ahi Tuna Poke bowl). Then there's dessert! The desserts that they make are all homemade in-house by the restaurant owner herself. Kathy is at the restaurant early every day preparing these great desserts. From the Profiteroles to the Carrot Cake, there isn't a bad decision for dessert (and in the summer, her fruit pies are amazing!).
There are so many great places to eat in Stowe and I would love to list them all. We keep an updated list of great restaurant options on our website, so feel free to check that out!
Harrisons: https://www.harrisonsstowe.com/
Café On Main: https://www.cafeonmainvt.com/
Butler's Pantry: https://www.butlerspantrystowe.com/